To access key features of this site, you must have JavaScript enabled.
Discover the NEW neutrals for fall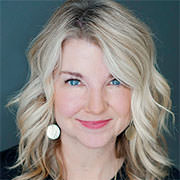 Guest blogger: Janet Kinkade
Janet Kinkade is the creator of JK by Thirty-One jewelry. Her ultimate passion is to inspire women and help them recognize their own beauty and potential.
When updating your wardrobe for a new season, there's always a temptation to play it safe. You might gravitate toward neutral colours, intending to get the most wear out of the new pieces you buy. But fall is the perfect time to rethink your definition of "neutral."
When we think of colours that go with everything, we think of the neutral trio: black, white and grey. But this year's most popular patterns – including animal prints, stripes and camo prints – are surprisingly versatile. These are my kind of neutrals!
Leopard print
The thing about leopard print is that it never goes out of style. Sure, sometimes it feels more "of the moment" than other times, but it always remains a fashion classic – so classic, in fact, that it's time you started looking at leopard print like a neutral. Because leopard consists of neutral colours (such as caramel, tan, brown and black), the print is actually super-versatile: It can be matched with any colour and look fantastic. It even looks great with other prints, such as stripes, because the bold patterns and neutral colours are compatible with each other.
Olive drab & camouflage print
This fall, feminine camo is hotter than ever! Like leopard print and stripes, it's considered to be a neutral. Camo might seem masculine and tough, but the truth is, it looks better on women than it does on men! It's all just a matter of how you style it. Pair it with jewel tones like Ooh-La-La Olive Pebble, stripes, glam accessories – just about anything! Camouflage fashion is definitely having a moment again this season. Don't wear camo head to toe, but do use it to add colour and accessorize.
Tip:I love our new Deep Merlot paired with camo this fall.
Stripes
Stripe fashion may feel bold, but most stripes are a shockingly neutral print. Like the leopard print, stripes typically consist of neutral colours, while the print design itself is bold. Don't let the pattern deter you from mixing and matching your stripe purse. Because striped accessories are so versatile, they can be paired with any colour, as well as other prints like our new dark florals and Lovely Leopard Pebble!
Tip: Make sure you have Twill Stripe in your wardrobe this season: Its versatility will surprise you!
So remember: Be bold, ladies! These versatile hues and prints are the perfect way to breathe some life into your fall wardrobe and amp up your everyday look.
Get the look
Even more ideas we love