To access key features of this site, you must have JavaScript enabled.
Commited to doing
better together.
For 20 years, we've been in the business of helping. From creating lasting products that help make life easier on-the-go and at home, to helping women everywhere feel empowered. Now, we're ready to lend an even bigger helping hand with sustainable ambitions.
We are committed to refocusing our company efforts on sustainable development and are working to take the necessary steps toward becoming an Earth-friendly and equitable business. A sustainable outlook is more than adopting "eco"practices and products, it affects every step of your journey, from production to people to the planet. It is not just a phase—it's a movement.
Some steps are small, but every step counts. Together, we can look after the planet, take care of each other and uncover new, innovative ways of working. Together, we can make the ultimate impact.
We are Thirty-One and we are committed to doing better together.
As we continue to work toward creating more planet-friendly products (with the same style and durability you love), we've introduced options created with a more sustainable approach. These products are better for the planet because of their fabrication—or because of their multi-use nature—and we can't wait for you to experience them.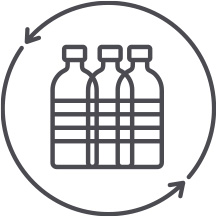 The Future of Fabric
We continue to make our top-selling totes and bags with recycled polyester, made from recycled bottles. Together, we will be able to keep up to 5 million plastic bottles out of the landfills in 2023. We're also working toward expanding this collection to include 67% of our products in 2023.
Explore styles
We're committed to the future
The offerings continue to grow as we convert more collections to recycled materials. And we're committed to exploring even more Earth-friendly fabrics in the future.
frequently asked questions
FAQs
We will continue to focus our company efforts on becoming an Earth-friendly and equitable business.
Recycled polyester fabric is made from rPET, recycled PET (polyethylene terephthalate) plastic that is used to make packaging such as plastic bottles and food containers. rPET is 100% recyclable and is the most recycled plastic in the United States and worldwide.
Currently, 67% of our products feature recycled polyester fabric, made from recycled plastic bottles.
Because this is a rolling change, only certain prints are created from these recycled plastic bottles. Look for the recycled bottle icon throughout our site for prints made from this material—you can also check your care and content label.
Our new fabric is made using 100% clear, plastic bottles and mechanical recycling. This includes waste collection, sorting, shredding, washing, melting and reorganization of the threads. Then the yarn is spun and woven into the fabric.
Our products have always been intended to be reusable—and a replacement for single-use plastic—which makes them a better choice for the planet. Currently, we have many products made from recycled polyester fabric, and continue to expand.
No. In fact, all styles in the fabric made from recycled plastic bottles either met or exceeded the quality standards of our previous non-recycled materials after 13 weeks of consumer wear testing.
Examples of the testing include
Crocking test (dry and wet) to gauge if color rubs off of fabric when subjected to abrasion
Tensile strength test (warp and weft) to test material's resistance to breakage under tension
Tear strength test (warp and weft) to learn material resistance to tearing
Seam strength test
Fabric weight and thickness testing to gauge the textile weight
No. Personalization options will not change with the new recycled polyester fabric, made from recycled bottles.
We continue to not only focus on the products we deliver, but also how they are produced. We are working closely with our manufacturing partners to continue our movements in reducing our carbon footprint and conserving energy and water.
Currently, we have converted our poly bag products into 50% post-consumer waste and our product hang cards are shifting to 100% recycled paper.